Interview with Lascelle – Scutum East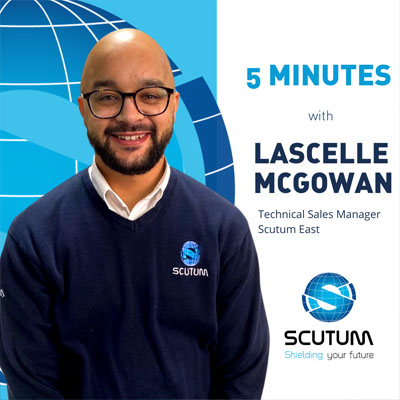 1 Who are you and what do you do?
I'm a Technical Sales Manager, that covers a lot! I find new leads, meet existing clients, support on projects, provide customer care and account management, really caring for clients is at the heart of what I do.
I really love it, it's varied because we offer fire protection, CCTV, intruder alarms, and clients are all different too, ranging from facilities managers, head teachers and business owners it's very diverse.
2 You have worked in security and fire before your time with Scutum, how long have you been in the industry?
I started as an apprentice for scan alarms when I was 17. I wanted a job and tried different trades; I needed a job to get my mum some money. I decided I wanted to work for Scan alarms and called 3 – 4 times to see if they had any vacancies, and because of my persistence I ended up having an interview and I was invited to become an apprentice for them. I've covered many roles in my time here, I've acted as a service engineer, commissioning engineer and technical sales to name some.
3 Any experiences that define who you are today?
When I was an install engineer, I was thrown into the deep end, and I think that helped shape me today. It was intense but it made me more determined to get the work done and prove I could do it. Once I succeeded, it gave me the confidence and I grew from there.
4 What do you love about your job?
I love how diverse it is and meeting all the people I get to meet, across cultures, creeds you name it, finding common connections no matter how far apart you might feel, connections are always there and that offers you the chance to learn about different people.
I try to be personable it's important that we build trust, I'm here to help people and find solutions that they need, not sell anything that they don't need.
5 What is the most common question you get asked?
Can I have a discount?
That is the most common question in this role, and in the current climate that is certainly a large concern.
6 One fun fact?
I have a princess Dianna award for being able to empathise and care for others. I got this when I was 16 when I was active in school providing care for younger kids who came from a difficult background and who needed a bit of support.
7 What would you say to someone considering joining Scutum?
Scutum Group UK gave me the career progression that I've had today. The company really recognises the hard work and ability level of employees, rewarding in the right places.
I would say go for it, they're so supportive with lots of opportunities and care. They have schemes outside of work if you need additional support, they help you in many ways in your life not just your career. You feel well supported.
8 Is the apprenticeship route something you are pleased you did?
Absolutely, you learn fast, you grow up, learn to take responsibility and you earn while you learn, it's the route I would recommend. I don't see this field as male dominated but we do need more females in this role. We should encourage more women to join the apprentice scheme, as there is a demand.