Interview with Bob Truesdale – Scutum South West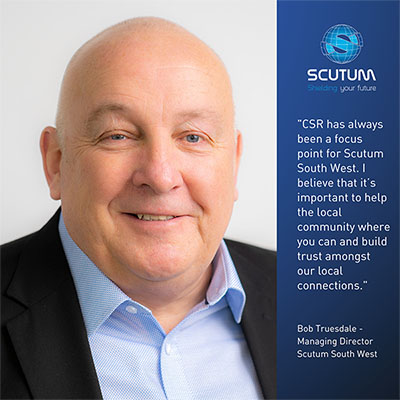 1 Scutum South West was once known as Securi Guard Fire and Security. What opportunities has the transition to Scutum Group UK provided?
People still refer to us as Securi Guard because our bell boxes are located all across the South West. We're celebrating our 40th anniversary of trading, 14 months of which has been branded as Scutum South West. The transition and familiarity of new branding takes time especially in such a well-established brand as Securi Guard was. However, customers old and new will benefit from the opportunities that are now available to them due to being part of Scutum Group UK.
The scale of remote areas, as well as tourism traffic, due to our close proximity to Dartmoor, has always presented a challenge to service delivery which we have managed well but becoming part of Scutum Group UK has enabled us to share resources covering this vast area and reduced response times as one example.
2 Scutum South West is still heavily involved in the local community as we've seen through various CSR initiatives and sponsorships, how did this all come about and how has this helped embed further local ties?
CSR has always been a focus point for Scutum South West. I believe that it's important to help the local community where you can and build trust amongst our local connections.
Our engineers are all local and when in the field, they learn about various community issues/projects that we're able to help with. We've had several opportunities to provide support this year.  We provided security to a local church that was being repeatedly vandalised, the Keyham community shed and continued backing local businesses such as Plymouth Argyle FC and Plymouth Albion Rugby Football Club. Future community involvement is supporting a Elburton Villa F.C. Under 16's by sponsoring their kit.
3 There is a strong relationship with Plymouth Argyle FC and Albion RFC, how did that begin?
Scutum South West have had a relationship with the club for over thirteen years and were involved with the refurbishment of Plymouth Argyle FC Mayflower Grandstand in 2019. Scutum South West were responsible for installing the Fire Alarm, Disabled Refuge, PAVA, CCTV, Intruder Alarm and Access Control Systems for the newly refurbished stand and since then our relationship has gone from strength to strength, and we also actively participate in their Nexus business club, which is a group of local businesses coming together, sharing ideas and support.
Our relationship with Plymouth Albion has been ongoing for over 12 years supplying their onsite electronic security requirements and fire extinguishers. This season we have increased our branding with the club and are pleased to have the Scutum logo on the clubs First Team Home and Away Shirts and in addition also on the Ladies and Colts Shirts.
4 Your main clients are SMB's and large accounts, adapting to client needs and delivering a scalable service can be a challenge for some businesses, how are you able to provide such scalable streamline services to your clients?
There certainly is a mix in account sizes, we see a lot of large residential buildings in this area, such as large holiday homes that are often left vacant when owners return to their main residences.
In contrast, we manage large projects, one we have just completed had all our team working. All clients need to be treated the same even though they have diverse needs but having a great team with a diverse skillset enables us to provide excellent services across both fire and security systems.
All our engineers and apprentices are trained in both Fire and Security systems, and regularly participate in CPD to keep up to date with the latest systems or upgrades no matter what make or model. They are incredibly knowledgeable.
5 Have there been any particularly interesting cases that Scutum South West have worked recently that was interesting due to its complexity?
Yes, we recently completed the largest project in the history of Scutum South West, installing their fire safety alarms across a teacher training campus. It took the entire team 3 months to complete and was testing due to the diverse nature that such a campus presents. Installing an interconnected alarm system that accommodated diverse area needs was a challenge that our project manager Paul Lawson, and team of 7, excelled at.
In addition to system complexities, operations and timing was also key as the project took place during summer, with a short window to complete the project. That same timeline applied to other contractors, so we had to deliver and adapt around one another to minimise disruption to continued client business operations.