Inside Scutum East
Scutum East who are part of Scutum Group UK, have been an established local company for over 40 years. The team works closely together and is now reaping the rewards for being part of Scutum Group UK, which offers them the support and opportunities they need to keep growing as an enterprise in this area with its national reach.
Hear what the Operations and Sales team have to say on working together in Bedfordshire and surrounding areas and the opportunities available to them as part of the wider Scutum network.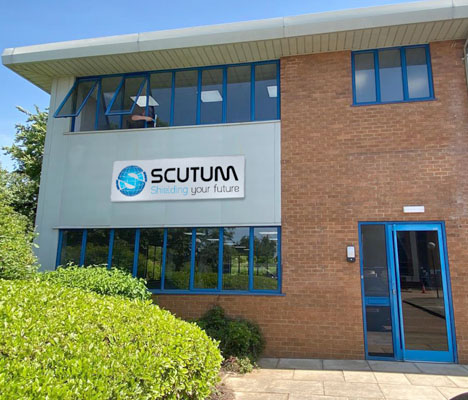 Scutum Team Philosophy
It's clear the team at Scutum East are very close and have been working together for some time. Sharing equal amounts of positivity and creativity towards improving services, it's obvious to see why the hard work is paying off.
"Individuals in the team are prepared to adjust and all are flexible enough to embrace positive changes." Shares David, MD for Scutum East and adds "Culture trickles down from the top, management are living breathing culture."
The rest of the team agrees, with Business Development Manager, Dennis Walker adding:
"this company takes ownership of issues, and the team works hard to resolve, this is owned by everyone."
It's certainly shown as all appear to be working together, even in conversation like a well-oiled machine.
Scutum East and the local community
The team have been working hard to establish brand awareness in the local Bedford area since being acquired by Scutum Group UK and moving offices out of Luton. Once known as 'Scan Alarms' their brand was well known in Luton and the challenge to bring awareness to the new name has needed the might of the entire team but is now paying off in dividends.
"It has been hard work, as Scan was so well known in the local area, but Scutum Group UK has many other areas that can support, such as IT, insurances, group policies, fleet, marketing and operator support, access to the fantastic Scutum Academy as well as providing a national infrastructure that Scan didn't have previously."
Recounts David, and goes on to say,
"some customers have felt the benefit of us moving to Scutum Group UK already, as some specialist services have been required and we have been able to supply that through our national network of service offering."
All in all, it seems a strong move to have joined Scutum Group UK for both the business and customers.
Scutum East Apprentices
As part of Scutum Group UK, Scutum East have benefitted from two fantastic apprentices from the Scutum Academy, who are finishing their first year. Their history of apprenticeships is rich with two of their managers having started as apprentices themselves with only positive feedback for the entry to work scheme.
"I left school and started my apprenticeship with Scan alarms when I was 17. I've been here ever since; I've seen the transition from scan to Scutum East and moved through the company. It's been the only thing I've known since I left school, I've been here 14 years."
Reports Anthony Wright, Operations Manager at Scutum East.
When asked about defining moments in their career, both Lascelle McGowan, Technical Sales Manager at Scutum East and Anthony share similar aspects within the apprenticeship scheme
"When you are an apprentice engineer, it's very easy to let the lead engineer do it and not talk to customers but it was always drilled into me, not to fall into my comfort zone as it will help make everything in the future easier."
Shares Anthony.
Lascelle agreed adding:
"I was thrown in at the deep end and I think that helped shape me today. It was intense but it made me more determined to get it done and prove I could do it. Once I succeeded it gave me the confidence and I grew from there."
The pride in which the team speaks of the success of Scutum Academy and the apprentices they have had shines through, with David sharing
"The apprentices have been quite successful for Scutum East, they've been dedicated and are in the top of their class, we're very proud."
The future is bright
Coming away from the offices in Bedford, it was evident that the team work hard and enjoy being part of the greater network that is Scutum Group UK. So, for any businesses that need quality Fire and Security support within a 50 mile radius of Bedford, or beyond Scutum Group UK have you covered across the UK.