Improved Communication and Efficiency – Introducing the New Customer Service Department
Scutum Group UK has undergone considerable growth in the last few years and as a result, recognised the need to create a team dedicated to the care and support of all customers.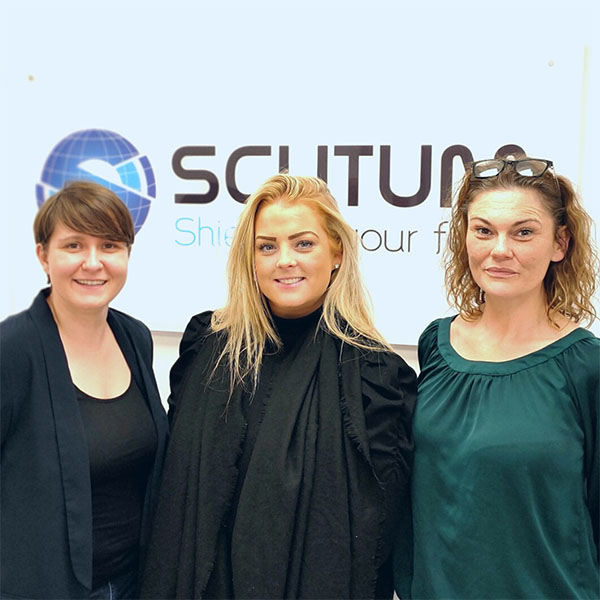 Customer satisfaction is a top priority at Scutum Group UK, and the recent hiring of Libby Barton and Dominique Lightfoot as the new Customer Services managers reflects this commitment. With a wealth of experience in customer care, both Libby and Dominique are excited to use their expertise to support Scutum Group UK's growing infrastructure. The move has already led to improvements in customer retention and office team efficiency. In addition, the dedicated Customer Services department streamlines communication for clients, ensuring prompt and effective resolutions to any issues that may arise. As a leading provider of fire and security systems across the UK, Scutum Group UK continually strives to offer high levels of customer service through dedicated professionals like Libby and Dominique.
Libby, the first to join the new department shared:
"Competitiveness in the industry means keeping the customers you have as well as supporting new clients during their settling-in period."
The Covid pandemic has had a massive impact on business, and at Scutum Group UK, we were no exception. However, this did not stop us from continuing to provide excellent customer service. Our team had to adapt quickly, learning new virtual processes to communicate with clients and keep them informed about the status of their projects. Through clear communication and the desire to support our customers, we were able to maintain strong relationships and even cultivate new ones during these trying times. Even as restrictions ease and we have resumed usual operations, our improved systems will continue to ensure that our customers are heard and valued. Customer satisfaction remains our top priority at Scutum Group UK.
John Watson, MD for Scutum London, commented:
"A satisfied customer is the best business strategy of all"

"The Customer Care Team have taken time to learn our processes and offerings, to utilise their skills to not only defuse situations but upsell and improve the customer relationship with Scutum. Theis relieves pressure from the admin teams and means the problem is aligned with the correct skillset to resolve and have a positive outcome."
Scutum Group UK has seen clear benefits since incorporating our enhanced customer service measures. Not only have we retained current customers, but we've expanded our service offering to them as well. Our Customer Care team has also been successful in regaining old customers who had been lost before the new strategy was put in place. Being involved in all aspects of the company has provided our customer service managers, Dominique and Libby, with valuable training and experience in this area. As a result, Scutum Group UK continues to prioritize providing excellent customer care and satisfaction as part of our overall commitment to being a top fire and security provider in the UK.
Scutum Group UK continues to expand its team in the fire and security sector, and as such, the vision is to add four new team members to this department by the end of the financial year 2023. This increase in staff will allow for more one-on-one attention for customers, as well as greater responsiveness in emergency situations.
Dominique and Libby both agreed that as customer service specialists with years of experience, there are several key attributes to creating a successful customer care time.
Dominique commented:
"I would say that the most important aspect of supporting customers is empathy. Listening to the customer's voice and truly understanding their concerns go a long way in making them feel heard and valued. At Scutum Group UK, we strive to not only respond to Customer complaints and issues quickly but also go above and beyond to fix the problem and leave the Customer satisfied. Empathy has been key in achieving this level of Customer care, as it helps us take on responsibility for solving their issues, rather than deflecting blame or passing it off onto someone else. Ultimately, empathy allows us to treat each Customer as an individual with unique needs and concerns, leading to better overall satisfaction with our services."
At Scutum Group UK, we understand the importance of customer service and how it can affect our business as a whole. Our team has worked hard to improve communication and efficiency, which in turn has led to increased customer satisfaction. We will continue to focus on providing excellent customer care through clear communication and responsive actions. As we expand our team, we will be able to provide even better service that meets the needs of our customers.
If you would like to get in touch to learn more, you can contact Libby, Dominique and now new addition Anna on customercare@scutum-group.co.uk